Tänzerinnen und Tänzer für neue TV-Serie gesucht!
Wir wollen Dich - Wir wollen Vielfalt! Jede/Jeder kann sich bewerben!
Wir wollen nichts außer Dich und Deinen Tanz!
Unter dem Motto "No matter who you are, where you're from, your skin color, your gender identity - just dance and find yourself!" stellen wir für die neue geplante Serie den buntesten Cast zusammen. Du kannst jetzt Teil des wunderbaren Ensembles werden. Du brauchst dafür nur eine Anforderung:
Du brennst für's Tanzen!
Wenn Du Hip Hop, Streetdance, Contemporary oder etwas vergleichbares tanzt, bist Du genau der/die Richtige!
Die UFA SERIAL DRAMA plant eine Light Fiction Serie für einen deutschen Streamingdienst. Wir wollen spannende Geschichten mit Dir erzählen! Vielfalt zeigen!
Denn VIELFALT IST DAS EINZIGE, WAS WIR ALLE GEMEINSAM HABEN - egal, wer Du bist, wo Du herkommst, welche Farbe Deine Haut hat, wen Du liebst - hier geht es einfach nur um Dich und Deine Leidenschaft für Tanz!
Da es sich um eine fiktionale Serie handelt, solltest Du vorzugsweise schauspielerisches Talent mitbringen.
Zeig allen vor der Kamera, was Du drauf hast und warum Du auf die große Bühne gehörst! Die Bewerbung ist ganz einfach:
Gehe auf MITMACHEN und lade ein aussagekräftiges Video von Dir hoch (Tanzreel, Vorstellung o.ä.).
Nutze Deine Chance und werde entdeckt!
Bei Fragen kannst Du uns gerne eine Mail an info@talentbase.de schicken.
Wir freuen uns auf Dich!
---
Important information for your application
Questions should be answered as precise as possible
Picture(s) should be up to date. Please do not use photo filters - we need authentic pictures for our casting work
Video(s) do not have to be professional. It's enough if you take the video with a smartphone in good resolution. Make sure it's bright enough & the light comes from behind the camera. Always use landscape format when filming & avoid background noise. Ensure you can be seen and understood.
Picture Requirements
Picture #1

Foto
Video requirements
Video #1

Vorstellungsvideo/Tanzreel
Answer the following questions:
Schreibe hier etwas zu deiner Bewerbung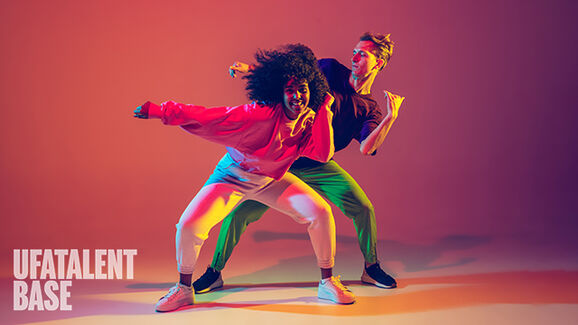 Project Requirements
Age

16 – 26
Additional features
Du musst tanzen können! Es gibt keine weiteren Anforderungen für dieses Casting.